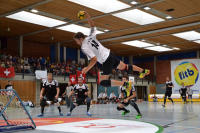 Radevormwald to host the "Champions League of Tchoukball" next March
As announced by the European Tchoukball Federation (ETBF) yesterday, the winning bid was from TuS Oeckinghausen, in collaboration with us at the DTBV. Behind the scenes, the Organising Committee has already started preparing for the 2019 European Winners' Cup in earnest.
Sören Kaapke, longstanding TuS Oeckinghausen and National team player, was placed in charge of organising the host facilities. The venue for the 2014 edition of the European Tchoukball Championships (ETC) in Radevormwald was an obvious choice, since all matches could be held at the same complex, with accommodation close by. Kaapke worked closely with the Office for Schools, Culture and Sport in Radevormwald to gain access to the complex for the event, with Ilona Sedivi from the organisation proud that once again Radevormwald will host an international Tchoukball event, saying "we welcome the tchoukballers from the top 12 teams across Europe to our town, and have every hope that the EWC will be a similar success".
Gaining access to the sports complex for the required time-period didn't come easy, with Sören needing to negotiate with local clubs who have regular slots in the facility for their club training. However, this process was relatively painless, with broad support from the clubs involved, with Sören commenting "we in the EWC 2019 Organising Committee and the DTBV are extremely grateful for the co-operation shown by the local handball club HSG Radevormwald/Herbeck, as well as the multi-sports club TSV Schwarz-Weiß Radevormwald, who without their support we wouldn't be able to host this event in such a fantastic sports complex".
The full location is:
Sporthalle Hermannstrasse Radevormwald
Hermannstraße 25
42477
Radevormwald
EWC 2019 will be held in Radevormwald over the weekend of the 29th to 31st of March 2019. You can follow the build-up of events through the following social media channels:
Facebook: https://www.facebook.com/EWC2019Rade
Instagram: https://www.instagram.com/ewc2019rade