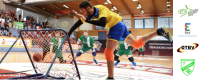 Bidding for the premium Tchoukball event in the European club Tchoukball calendar opened at the end of March, after closure of the 2018 edition in Traiskirchen, Austria. The process was open for 3 months, to allow National Federations (NFs) to consider applying.
The ETBF executive committee met in mid-July, to consider all bids, with a consensus decision reached to accept the bid from the German Tchoukball Federation (Deutscher-Tchoukball Verband [DTBV]), in collaboration with host club TuS Oeckinghausen. The decision was officially announced at the 2018 General Assembly of the ETBF, in Castellanza Italy, informing the NGBs that their national champions need to start planning to travel to Germany next March.
The DTBV have previously hosted the 2017 edition in Erfurt in collaboration with SG Urbich, as well as the FITB European Tchoukball Championships in 2014 in Radevormwald. Chiara Volonté, President of the ETBF was impressed with the bid, commenting:
"The DTBV hosted a great event in 2014 with the European Tchoukball Championships and the ETBF Executive Committee is delighted to award the hosting of the 2019 European Winners' Cup to this young dynamic federation. I look forward to seeing the organisation of the event progress over the next 6 months."
The president of the DTBV and TuS Oeckinghausen, Thomas Langescheid, was delighted with the outcome, saying "I'm proud that once again the DTBV has been selected to host such a prestigious event, especially in collaboration with my own club. We hope to build on the successes of the previous events, especially in regards to public engagement".
More details will be released in the coming days and weeks. You can keep up to date by following these social media channels:
Facebook: https://www.facebook.com/EWC2019Rade
Instagram: https://www.instagram.com/ewc2019rade