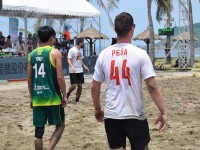 The Czech Republic finished 4th in the World Beach Tchoukball Championships today with a tense and often close match against number 3 seeds Macau. The Czechs started the match very strongly and it was only in the final period that the Macau team developed a lead.
Strong shooting from Vele and Reznicek gave the Czechs the advantage in the early stages of the match, but the Macau side adapted well to the powerful shooting and began to catch and turn over shots. Kafai and Yao proved a very strong partnership and took control in the latter stages. Captain Stepan Vele was proud of his team's performance.
"Of course we are disappointed to lose, but our 4th place is better than the target we set ourselves so we are very pleased with the results this week."
Elsewhere in the competition, Poland won a nail-biting match with a 30-29 win against Malaysia to finish 5th. France came 11th with a side mixed with players from the French Reunion Islands.
Chiara Volonte, President of the ETBF was delighted with the strong performances:
"It is challenging for Europea countries to play in a very different climate against a very different style of play. I'm very pleased with the performances from all the European teams and I look forward to seeing many of these players in the Rimini beach tournament in Italy next year".