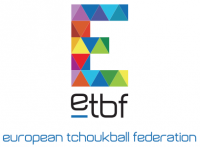 This weekend the European Tchoukball Federation (ETBF) celebrates it's first birthday since being founded on 29 March 2014 in Neuchâtel, Switzerland. It has been a busy year for the first Executive Committee of the ETBF. In August 2014 we ran the European Championships in Radewormwald in Germany thanks to our partners from the German Tchoukball Federation. During this event, we worked with the hosts and the International Tchoukball Federation (FITB) to negotiate the best deal for European teams whilst ensuring the competition was professionally managed.
Off the court we appointed a new Head of the Technical Commission. Our Technical Commission controls the rules and regulations for each competition, working with the FITB to ensure that tchoukball is played to the same standards across the world. We're fortunate to welcome Paolo Dolzani to the Executive Committee who also works in the FITB Technical Commission, ensuring we influence tchoukball at the highest level.
Within the last months we have begun to make contact with members of the European parliament with the view to identifying potential funding sources. Just in time for the first anniversary of the ETBF we could let this website go life.
As we look to Saronno for our flagship club event, the European Winners Cup, as well as the European Silver Cup in Turin, we celebrate our first anniversary as a continental federation with the biggest weekend of indoor European club tchoukball ever. Working with our National Federations and our awesome teams of volunteers means the future is bright for European Tchoukball.