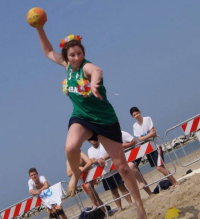 Bury Kings, runners up in the UK Super League last season will be appearing in the EWC once again to represent the UK. Among the Kings contingent is their resident queen, Sara Parker.
Parker, who will turn 30 shortly before the competition, has played tchoukball for Bury St. Edmunds since 2009 after being introduced to the sport by good friend Lauren Attride, who met each other through playing netball at university.
Using her agility and tactical knowledge from other sports, Parker took to tchoukball like a fish to water. Since 2009, the British right-handed player has been a valued defender/playmaker for Bury, steadily progressing in this 'fast, intense and ruthless' game. For the past four years, Parker has also represented the UK as a right-handed defender and has no shame in admitting that her main motivation for a game is just to "catch everything". She has noted that the shooting ability has vastly improved since she first started playing, making her job as a defender even more difficult.
Parker is not just a one-trick pony with her abilities as she is also a keen netball player in which she plays for three different teams. She's also known for her singing and has performed at the Tchoukball UK Awards Evening in the past, as well as having auditioned for X Factor. Off the court, she enjoys spending time with her family, including her new husband, Ian Parker, the Head Coach of the UK Men's team.
We asked Parker for her favourite memory of tchoukball and she said that coming 3rd in the World Championships with the UK Ladies was the best moment. Otherwise, her favourite thing about tchoukball is that as it is a fun sport, you can "burn lots of calories and not even realise" which is something that most people enjoy (especially post-Christmas).
As the 30-year-old develops her own game, she'd love to see 'a constant flow of female players in both junior and senior level' across the world. Whilst the variation of shots has changed over the last 10 years, players "are far more confident and able to hit extreme" angles. Going in to EWC in Radevormwald, Parker's main aim is to just enjoy the tournament and have fun which she will surely do with her teammate, husband and tchoukbae, Ian… As well as a chance to see her "favourite ginger" and fellow UK international, who now lives in Germany and plays for hosts TuS Oeckinghausen, Stuart Blakemore. At the end of the day, her advice for any new players is to purely give the game a try, as bizarre as the name sounds and you never know, you might find you just fall in love with it.