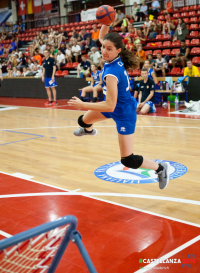 Italian-born Claudia Alessio marks her 10-year anniversary playing tchoukball in no better way than with her first attendance at the European Winners' Cup this year in Radevormwald. The 27-year-old will be playing with Saronno Castor for the first time this year, having previously been a long-standing member of Bergamo TB, one of the oldest in Italy before it's closure this year. Alessio has been a member of the National team since 2014, representing Italy at ETC 2016 and 2018 and the Geneva Indoors from 2015-17. With the national team, the right-hander usually plays as a left shooter, but for Saronno Castor, Alessio makes for a solid defender.
Saronno Castor have been able to recruit a wealth of experience as Claudia has been playing tchoukball since 2009, when she and her friends decided to create a tchoukball team after playing it in high school and the rest, as they say, is history. Alessio has a "true passion for sports", especially as her family are exceptionally sports-orientated. She loves running, hiking, climbing, skiing and many more! Alessio is even currently training for her first marathon.
Passion is such a major part of any sport, particularly for Alessio. It's a major reason as to why many players continue tchoukball – there is a sense of passion and community in every match, tournament and event. Her personal goal for EWC this year is to live every moment to the fullest, embracing every experience and naturally, hoping her team can win their 5th title. One of Alessio's favourite memories is her victory in the European Tchoukball Championship last August after an incredible final against the Swiss national team. Two of her closest friends within the sport come from the Italian national team – Anna Zinetti and Irene Fergnani.
The progression of tchoukball is slow but steady, perhaps thanks to the increase of sports in schools. But, Alessio would still like to see a greater progression in the number of female players and above all, the preservation of the social and fair-play spirit in the game even as the abilities of players and professionalism of the sport increases. She has seen a radical improvement in the game; athletes are producing faster shots and preparation for matches are much more physically demanding. Alessio finds herself fired up when the defence are having a spectacular day, especially in second line. She advises to live life at tchoukball tournaments as fully as possible – not only on court but outside of the game. "The moments we share [off the court] add value to our sport".