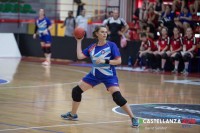 Right-handed UK player Eithne Mc Carthy is one of Guilford Inferno's key defenders, playing for them since 2015. Discovering Tchoukball in 2012 at Portsmouth University whilst study Geological and Environmental Sciences, after she graduated she transferred to Farnborough Jets in 2013, becoming a member of Inferno in 2015 when the clubs merged.
McCarthy considers herself a bit of a nerd. She works in the insurance industry in London as a Catastrophe Exposure Analyst, and dreams of holidays watching active lava flows in Hawaii and walking between the two fault lines in Iceland. Her nerdiness extends to Tchoukball, as she's thoroughly addicted to the fun and fast sport with 27 national appearances from 2016-2018 at the European Tchoukball Championships and Geneva Indoors. One of her most memorable tchoukball games was in last season's UK South-East Regional League. GTC were short on players for this particular round of regionals, so they played as two teams of five players. The team McCarthy was on had the comeback of the year! They went from being 12 points down to winning the game by one point, against one of their biggest local rivals. She was so proud of the five of them for working hard and having the mindset to turn the game around at a critical point. Her team went on to win the South-East Regionals for 2017-18, with the other Guildford team coming 2nd!
McCarthy is also highly respected by the UK Tchoukball community, winning Sports Personality and Sportswoman of the Year at the Tchoukball UK Awards Night in 2016, with McCarthy saying she was both shocked and inspired by the award. However, for McCarthy the best thing about tchoukball is the "community spirit around the sport" and she has enjoyed meeting "so many great people from all around the country and Europe". One of these great people is Elle Jones who has done a lot of work in the UK for Leeds Galaxy and Portsmouth Drakes on social media to grow the sport's exposure, whilst also being "one of the kindest and funniest people in tchoukball" – she also makes cookies and cakes, so that's a bonus! Originally from the Irish countryside, McCarthy loves to spend her time outdoors, exploring new national parks or climbing mountains. If there's a coffee shop or pub at the finish line, she might even be able to convince her boyfriend Andy Cummins to take a stroll as well! As well as enjoing being outside, she is a big fan of cooking, reading thriller novels and binge-watching Netflix.
Eithne believes that the future of tchoukball lies in the youth system and would like to see the sport played in more schools and youth clubs across the UK. Besides the benefits to physical and mental health, she feels that it is also a way for people to enjoy a team sport who maybe wouldn't be accepted in another sport as this is something she herself had felt. For any new or prospective players, her only advice is to attend as many training sessions with experienced players and really "throw yourself into the deep end".
Guildford Inferno will be attending EWC 2019 for the second year in a row now and Eithne is really hoping that Guildford can turn some of those tight defeats from last year into wins and finish higher than their 9th place from last year. As someone who often gets nervous before important games, McCarthy tries to just focus on the game in hand, enjoy her time on the court and will play best when she's feeling relaxed and prepared. A good, defensive warm-up also comes in handy. Time will tell whether those defensive drills before games will help Guildford to a higher finish…