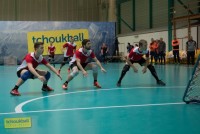 In this week's double-header of interviews, we speak to two players from Geneva-based Tchoukball Club Meyrin with this edition focusing on the 25-year old Swiss international defender: Thomas Produit.
Produit was introduced to Tchoukball at the age of 13 in 2006 by Tchoukball Club Geneva, and playing in defence since his first day, he decided to take up tchoukball after struggling to integrate into his previous handball team, and from then on, tchoukball has become an integral part of his life. It is fair to say the move has paid off; since his tchoukball debut, he has amassed 63 caps at full international level with the Swiss Men's team and has featured in both of the last two European Tchoukball Championships in Jicin, Czechia (2016) and Castellanza, Italy (2018).
At club level, he played for Geneva until 2012, before moving on to Val-de-Ruz in 2013. During his four seasons with the Flyers, he represented them in the Swiss national league, as well as multiple editions of the European Winners' Cup, and one edition of the European Silver Cup. In 2017, he moved back to the city of Geneva, but joined Meyrin Panthers instead. Produit has an extensive background playing for his national team, and he is a well-respected and experienced player. Produit considers the Nations Cup final in 2011 to be his greatest tchoukball memory to date, as it was his first prestigious game with the Swiss national team and he had the honour of playing with Austria, who he thinks are an extraordinary opponent. That victory was a particularly special moment in front of his hometown and entire family!
Most of Produit's spare time is taken up by tchoukball, if he's not skiing or hiking, whilst his girlfriend, Talita Carneiro Rodrigues, is not only his best friend within tchoukball, but his best friend in life. In the rare case that Produit isn't running up and down the court, he works at the University of Geneva with a terawatt class laser, which are able to drill holes into the clouds and guide sparks of electricity – so now we know why he "produces" so much energy on the court!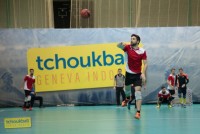 As well as meeting Talita, he cites that the best thing about tchoukball is having the feeling of "being part of a big tchoukball family", including both teammates and rivals. He would like to keep that family feel that is quite unique to Tchoukball, whilst also hoping that the game could grow more known to the public and even get some TV air-time.
Reaching Produit's level in tchoukball requires dedication and commitment. Upcoming players are often natural and talented shooters, but fall short in defence, so he recommends training these skills intensely in order not to stunt any progression – obvious advice coming from a defender. The difference between teams, however, is shrinking in his opinion, and well-thought-out strategies can make the difference between a 1-point and a 10-point lead. The past five years have seen a rapid increase in quality and the dynamics of the game, pushing teams and players to improve their performance on a weekly basis.
Although tchoukball does not have a huge public market (yet), Produit is immediately fired up by pulling on his team shirt for a game as he enjoys the positive pressure of starting a game. However, I'm sure Thomas won't need any extra incentive to get fired up for EWC 2019 in Radevormwald, but he does say he would love to see Meyrin Panthers make the final of EWC, as it would be his first European final and signify that Swiss tchoukball is back on the rise…
Authors: Tara Granea and Nick Rowe
Editor: Stuart Blakemore
Photos: David Sandoz, Cassandra Renaud