As the excitement of EWC in 2019 in Radevormwald builds, we caught up with Chiara Checchi, member of last year's EWC winning team: Ferrara Bulls. She shared her insights as to why she loves tchoukball, what has changed since she started playing, and her hopes for the upcoming tournament.
Checchi, who turns 19 this month, joined Ferrara in 2008 since her brother Stefano played and she was keen on playing a sport without physical contact, falling in love with Tchoukball immediately. She learnt the basics of the game playing with Ferrara Pulcinuts until 2012 and then the Ferrara Neonuts, which gave her a solid grounding to develop and home in on her shooting, passing, and defending skills. She quickly moved up through the ranks to become a member of the Ferrara Bulls in 2016, as well as becoming an integral member of the Italian national team in 2014. Her record at senior international level is impressive, taking home silver (2014), bronze (2016), and gold (2018) at the European Tchoukball Championships. She has yet to represent Italy at a senior World Tchoukball Championships, but she has set a precedent at junior level, taking gold in 2011 in the M15 category.
Away from tchoukball, Chiara has recently graduated high school and is going on to continue her studies in Engineering Management, as well as continuing her volunteer work developing and managing the Ferrara Tchoukball website and social media channels, to attract new people to the sport. She hopes that, in time, there will be more players, clubs and countries playing tchoukball and it will appear in an Olympic Games someday – fingers crossed!
A unique aspect of tchoukball, more so than other sports, is its encouragement of fair play and concentration on good sportsmanship. Tchoukball prides itself on the conduct of its players in all countries. One of Tchoukball Italia's visions is to contribute to the creation of a better society within sport based upon respect, collaboration and joy. For Checchi, the best thing about tchoukball is its continued commitment to equality and creating a level playing field. The friendships she's made over the years are friendships for life, commenting: "Yes, players are competitive on the court, but at the end of the day, those friendships will have stood the test of an intense match". Her relationship with Eleonora Abutzu, a player from Rovello Sgavisc, stems from their mutual vision as to what tchoukball means to them both. This not only fuels their passion on the court, but their bond outside of the game.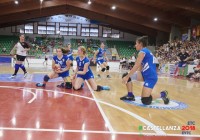 As a defensive, right-handed player, Checchi has seen the game change massively over the past 10 years. The range and angles of shots from players has improved dramatically, forcing defensive players to raise the bar, including Checchi, in order to cope with the growing demands of the game. She is also no stranger to playing in the big games, with national and international trophies in the cabinet, including last year's edition of EWC, in a tightly fought game against this year's hosts TuS Oeckinghausen. Like many sports-men and –women around the world, she begins her preparation in the changing rooms, with the Italian being very superstitious, by always putting on her socks on her left foot before her right foot. She also cites music as being helpful in her preparation which psyches herself up as she warms up before the game.
Tchoukball is more than just a sport for Checchi; it's a way of life. Her favourite tchoukball memory came last summer when she was a part of the ETC 2018 winning Italian team and she lists the "hard work, desire to win and support from her coaches Deiv and Stiwy" as the key reasons behind their gold medal success.
Let's see if Chiara can add another EWC medal to her collection in 2019…
Authors: Tara Granea and Nick Rowe
Editor: Stuart Blakemore