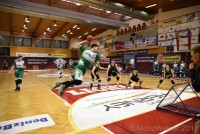 In this week's player snapshot, we hear from Polish international Piotr Reclik about his tchoukball career, his aspirations for the future and his hopes for the EWC in Radevormwald.
For some players, the social atmosphere in tchoukball is what draws them in, whilst for others it's the chance to try something new. For 22-year-old Reclik it was that he was too short for volleyball but with a big personality and a passion for team sports. Having played for Polish team Ursus Rybnik for his 6 and a half year tchoukball career, he's made 28 national appearances, including international friendlies and the last three editions of the European Tchoukball Championships between 2014-2018. Recently this has come at a cost though, as he had to sacrifice his Master's degree in order to play in the 2018 tournament, since his pre-exams were at the same time. Some people might think it's a little crazy, but it shows the sacrifices people are willing to make for tchoukball, a sport full of highly motivated individuals!
Reclik plays for Ursus Rybnik as an all-rounder, stating he does whatever is required from him for his team. As a flexible, right-handed player, Reclik has high goals for the upcoming tournament, hoping to score at least 20 points during each game. Reclik is impressed by the large improvements made by all teams in Europe over the last few years, but thinks that the faster and stronger shots also allow Reclik to improve every aspect of his game. In regards to where he thinks tchoukball is heading in the future, Reclik said that he hopes that the EWC could have a longer tournament format and that, one day, the ETC tournaments would be broadcast on TV with players singing their national anthems. Maybe this would help to fire Reclik up in the future – not that he needs it as he is naturally psyched up as he "enjoys the big responsibility he has on the team".
Off of the court, Reclik can be found playing tennis or running alongside his dad every few days. At the end of tchoukball tournaments, you'll find Reclik is one of the players with the most energy to head out to the gala dinner, describing the event after the ETC 2014 in Radevormwald as the best one of his tchoukball career, a tall order to be repeated in EWC 2019!